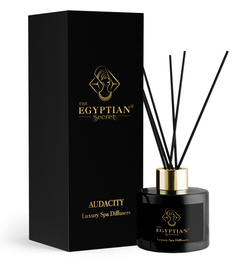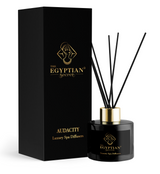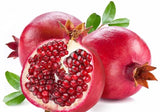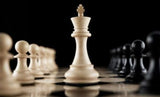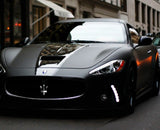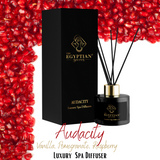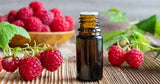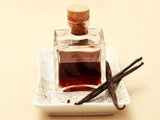 The Egyptian Secret
Audacity: Luxury Aromatherapy Spa Diffuser
ID: Diff100
au-dac-i-ty
Noun. A willingness to take bold risks.
Audacity can be an aphrodisiac...literally.  Our signature blend of vanilla, pomegranate and raspberry makes our custom curated, all natural luxury spa diffuser exactly what is needed for the queen's quarters.
The secret is in the pure vanilla essential oil that exudes tranquility and relaxation, widely known for its antioxidants and the ability to balance hormones naturally.  The beauty of pomegranate and raspberry is that both are anti-inflammatory and anti-aging properties. Oh, the turn on is fabulous! 
The black reeds help disperse essential oils into the air as aromatherapy vapors, filling your home with a natural fragrance. Ours is long-lasting, calming and relieves anxiety so that you can be your best, authentic self...day or night.
Yes, we specialize in luxury.  Luxury is what you deserve, queen.
Order yours today! While supplies last!